Hoerbiger News_December 21st, 2022
HOERBIGER inaugurated its first Solar Power Plant in India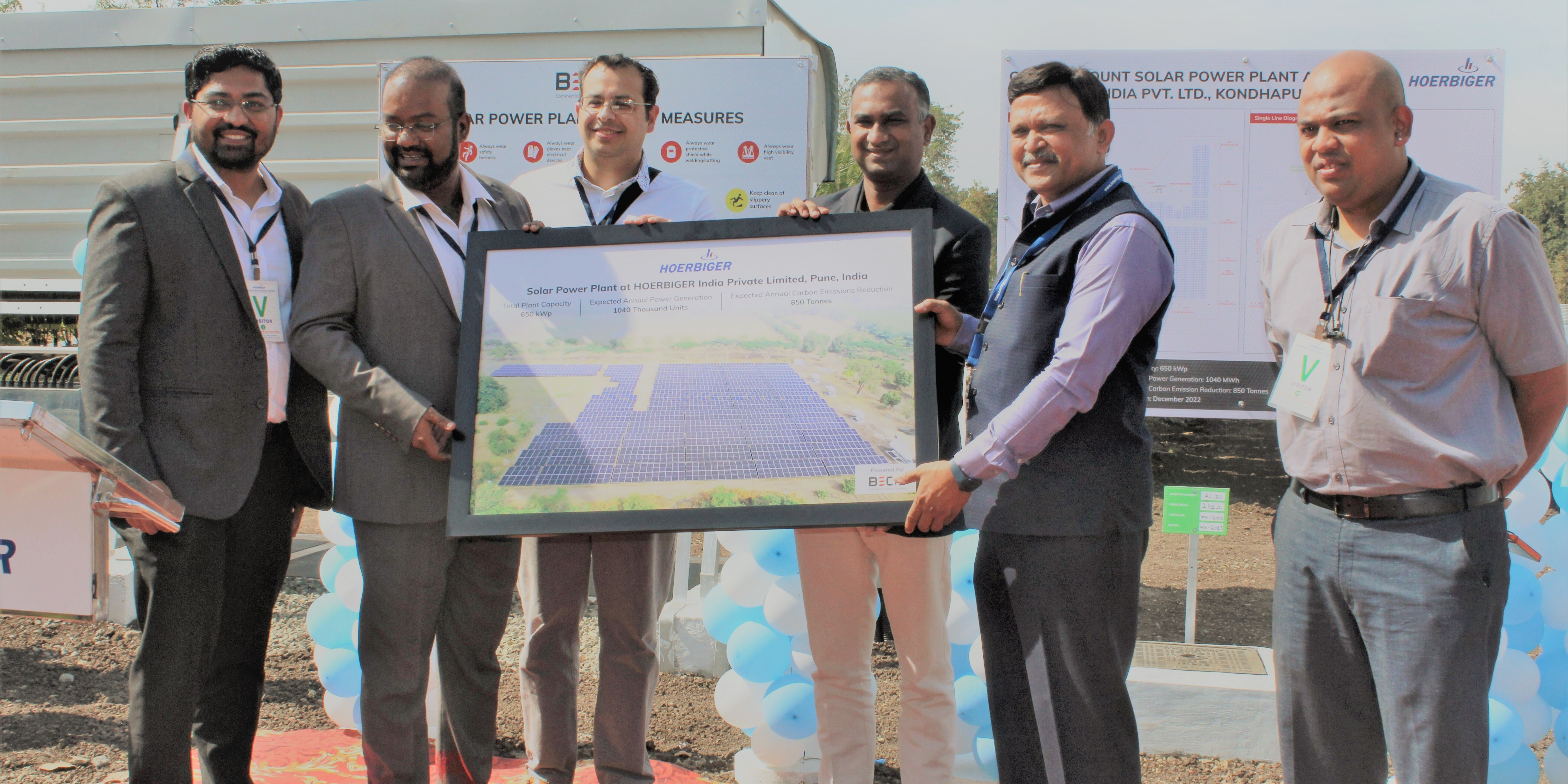 On 15 December 2022, HOERBIGER commissioned its first on-site solar plant in India. The ground-mounted power plant was officially inaugurated during the visit of the Executive Board to HOERBIGER India Pvt Ltd. (HIPL) in Kondhapuri village.
Installed on an area of 6000 square meters, the premium quality plant has a capacity of 650 kWp and will produce around 1 million kWh of electricity per year, which is approximately 50% of the current annual demand of the local factory. For comparison: In rural India the average annual consumption is around 600 kWh. "The generation of solar electricity would thus be sufficient to light up 1500 rural households for their basic power requirements", explains Gaurav Pandit, Manufacturing Plant Manager in India.
The climate-friendly solar power is directly consumed by the factory for its own energy demand and any excess generated power is fed into the local grid which is compensated by the grid company. Besides reduction and stability in energy costs the annual carbon emission of the factory will also be reduced by 850 tons. "This is a critical step to supporting our emission reduction targets", says Shripal Shah, Managing Director of HIPL.
The solar plant in HIPL is the first of its kind within the HOERBIGER group. It takes a leading role in terms of the company's intention to pursue a long-term sustainability strategy, which includes the use of green energy and with it contributing to a climate-friendly future.
Caption: Managing Director of HIPL Shripal Shah (2nd.f.r.) and Manufacturing Plant Manager Gaurav Pandit (3rd.f.r.) inaugurate the new solar plant together with a delegation from the energy contracting company BECIS Pune.