Hoerbiger News_September 10th, 2023
20 new trainees start their careers with HOERBIGER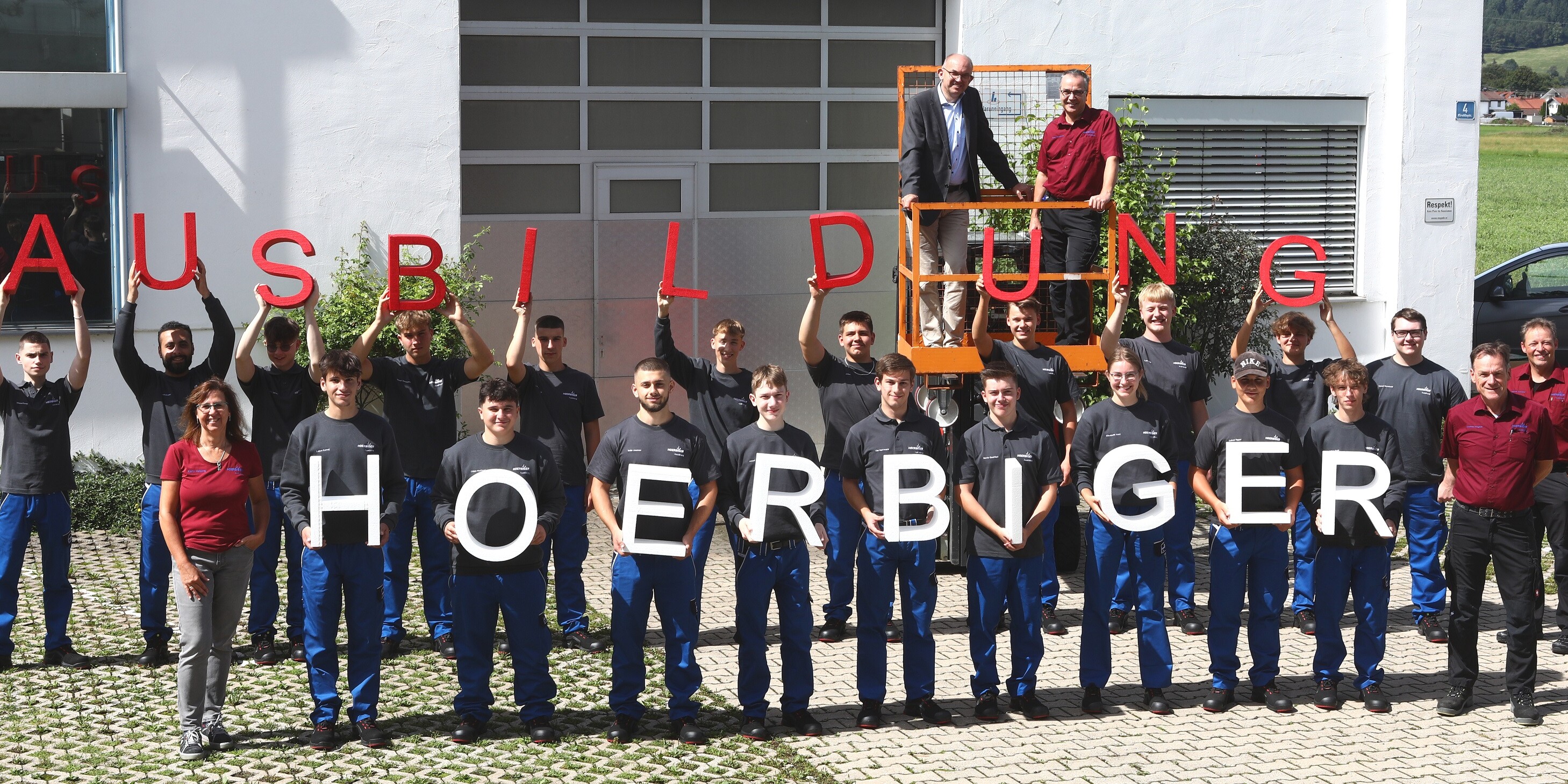 On September 1, 20 young professionals started their training at the German HOERBIGER locations. Over the next two to three and a half years, they will learn technical professions at the HOERBIGER plants in Schongau, Altenstadt and Penzberg, as well as at the Peiting training centre.
Among the trainees are four tool mechanics, four industrial mechanics, four electronics technicians, two cutting machine operators, two metal technology specialists, one mechatronics technician, one technical product designer, one machine and plant operator, and one warehouse logistics specialist.
On their first day of training, the new apprentices from the Weilheim-Schongau district were welcomed by Dr. Ansgar Damm, Head of Research and Development in the Automotive Division and Managing Director, as well as Training Manager Peter Frühschütz and the instructors, and given a tour of the HOERBIGER training center in Peiting. There, the career starters will spend about half of their apprenticeship period in an area of about 1500 square meters: In the first year, the basic training will take place in the training workshop, and in the second and third years, the specialized training will be added in the company divisions.
From September 4-5, the apprentices and their trainers spent varied days getting to know each other in Peiting and the surrounding area. "These days are particularly valuable," says training manager Peter Frühschütz. "There, the career starters have ample time to get to know each other during various team-building activities. The trainees also experienced our training motto #funbeforeholiday. Because having fun at and during work is an important component for us to be successful in the job."
At HOERBIGER, the trainees receive practical vocational training under state-of-the-art working conditions:
"We train our junior staff ourselves and attach great importance to qualified and sustainable vocational preparation that has a future. The trainees work with partly computer-aided machines and are supported by competent contact persons in the company divisions as well as by four instructors who are always available to them with advice and support," says Peter Frühschütz. "With this commitment, we deliberately want to counteract the shortage of skilled workers in the industry and make our employees fit for the challenges of the industry."
The application run for next year's apprenticeship positions begins at the same time as the start of training. in 2024, HOERBIGER will train 26 young junior employees in ten technical and one commercial profession in the Weilheim-Schongau district. Sending in an application in good time increases the chance of finding your dream job.