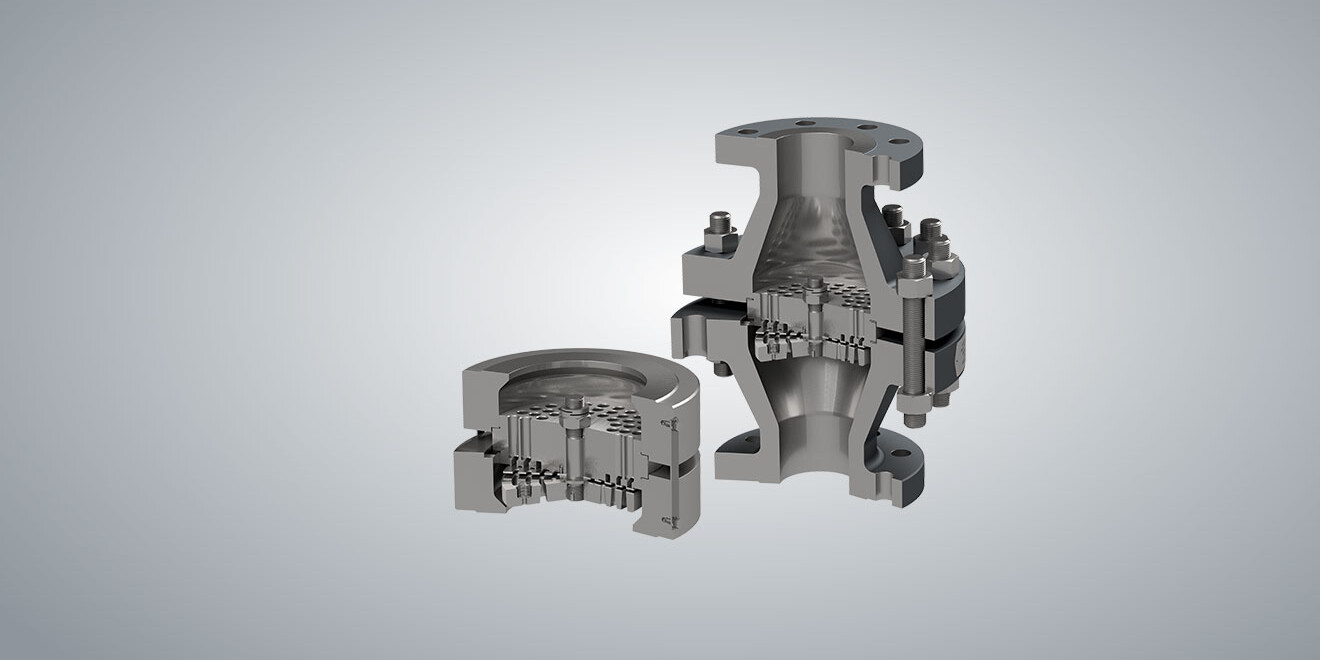 Proven reliability over decades
Check valves are critical devices that not only prevent equipment from damaging, but also prevent safety risks caused by reverse flow. There are a wide variety of different check valve-types from numerous manufacturers available on the market. Engineers of our customers are generally challenged to select technological and economical suitable solutions for their specific application.
HOERBIGER plate check valves prove their advantages in challenging flow conditions like pulsating or turbulent flow since the 1950's. In other cases, fast response - that means short closure time - might be the technological advantage which is from priority for the specific application.
Why choose the HOERBIGER plate check valve?
The high dynamic valve characteristics of HOERBIGER plate check valves protect reliably from back-flow and thus, increase the availability of your high value equipment.
HOEBIGER plate check valves are almost wear-free, leading to a reduced amount of maintenance.
HOERBIGER plate check valves can be installed in any position and orientation. This either simplifies engineering or increases the flexibility of piping isometry.
This is how the plate check valve works
The high dynamic design of HOERBIGER plate type check valves is characterized by low moving masses, low valve lift and the spring loaded valve plate.
HOERBIGER plate type check valves permit uncountable opening and closing cycles without negative impact on the service life due to their robust design.
Due to their flexible design, HOERBIGER plate check valves can be exactly fitted to customer specific requirements.
Plate check valve at a glance:
Most robust check valve design in turbulent or pulsating flow conditions
Minimal preventive maintenance required
Excellent durability even in varying operating conditions
Increased flexibility in piping isometry / simplification of engineering
Designed and engineered to fit customer specific requirements
Worldwide service centers close to customer
Process fluid:

1200 rpm maximum gaseous, any composition

Flow condition:

constant | turbulent | pulsating

Body configuration:

wafer-type | lug-type| bell-type

Size:

NPS 1/2" - NPS 16" | DN10 - DN400

Pressure rating:

Class 150 - Class 2500 | PN10 - PN400

Codes and standards:

ASME B16.34 | API 594, API 6D | PED 2014/68/EU

Flange dimensions and facings:

ASME B16.5 | DIN EN 1092-1 | customer specification

Face-to-Face dimensions:

ASME B16.10 | API 594, API 6D | EN | customer specification

Material selection:

According to ASME | API | EN | NACE | and customer specification

Certification:

CE according to PED 2014/68/EU | TRTS 010 & 032 (GOST)
Where rapidly fluctuating gas flow is encountered, compressor-type check valves such as the HOERBIGER plate check valve are a good choice.
"
Smith P. and Zappe R.W. 2004, Valve Selection Handbook